Deaf Enterprises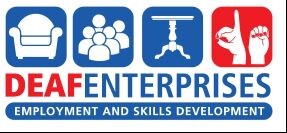 About this idea
Deaf Enterprises is Ireland's only dedicated employer of the Deaf and Hard of Hearing Community. Founded in 1987 by Fr. Bill Clarke, the charity was set up to tackle the high rates of unemployment among Cork's deaf community but has subsequently grown throughout its history to provide training and placement opportunities. Deaf Enterprises has been a proud part of Cork's D/deaf community for over 30 years..
The charity launched its workshop in 1988 providing re-upholstery, sewing, French Polishing and furniture manufacturing and restoration. They now provide placement opportunities for deaf and differently-abled people in addition to their original offerings. Of their 26 staff, 4 have disabilities and 20 are D/deaf.
Results
Deaf Enterprises provides a top quality re-upholstery and French-polishing service at their workshop on the Ballinlough Road in Cork.
Deaf Enterprises has since it was established in 1988 provided a high quality re-upholstery and French Polishing service to the people of Cork City and county and beyond.
Deaf Enterprises has been involved in over 1539 projects since it was established. The projects were related mainly to furniture design and restoration, building and modelling and high quality hand made work.
Website: http://deafenterprises.ie